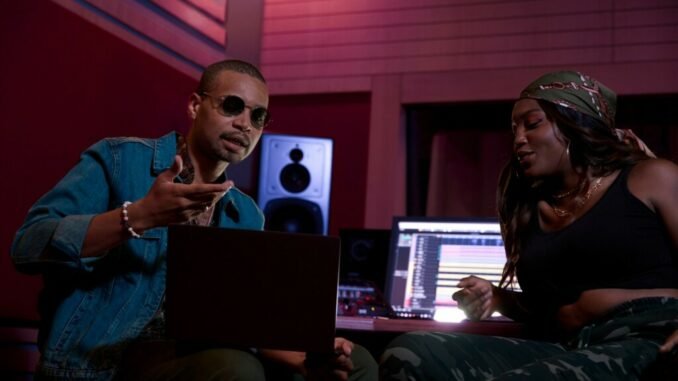 Kevin Cornell on April 17, 2018
[Editors Note: This article was written by Angela Mastrogiacomo.]If you're reading this, odds are you've either just released a new album, or have plans to in the coming weeks or months to do so. So first off, congratulations! Getting to a place where you're ready to bring your latest project into the world is something to celebrate!(Ed. Note: First off, what defines an EP as it pertains to digital distribution to Apple and Spotify? See below:

In iTunes:

In order for a release to be considered an EP, it must meet one of the following two requirements:

– The release has a total of one to three (1-3) tracks, one or more of the tracks is/are 10 minutes or longer and entire release is less than 30 minutes.

– The release has a total of four to six (4-6) tracks and the entire release is less than 30 minutes.

– If your release meets the above requirements and you do not have "- EP" in the title of your album, iTunes will automatically insert "- EP" in the title when delivering your album to the store.

In Spotify:

– Your music will be classified under the EP category if:
– The release is under 30 minutes.
– The release has 4-6 tracks.
– Spotify will not change the title of your release.)

But if you're feeling a little lost in how to prepare for the exciting day, we've got your back. Below we've compiled a list of steps to prepare you for your album release—what materials you'll need, how early you'll want to start planning and pitching, and how to use social media to market that release.
GIVE YOURSELF PLENTY OF TIME
When you hire a publicist for a PR campaign around an album, they'll need an eight-week lead time to promote the album and set up a few single premieres in those months leading up to the release. So if you're looking at hiring someone be sure to get in touch at least three months prior to your release, and if you're going the DIY route, make sure you allow yourself at least those same eight-weeks to properly work promotion on the album.
This is a crucial time in which you'll be sending the album to prospective reviewers and interviewers so make sure you give it the time it deserves. Each artist will be different, but I'd set aside at least 5-10 hours per week to work on planning and promotion.
Once the album is out it will be significantly more difficult to gain any press traction around it, so using this time wisely is a definite must-have for a successful album release.
MAKE SURE YOUR EPK IS UP TO DATE
No skimping with old photos, outdated bio, or photos with previous members in them. Your EPK should be up to date and easy to dive into. Make sure you include at least three hi-res band photos (preferably done by a professional who can guide you in what looks good and what doesn't, and get some personality into those shots), and a professionally written bio.
If your EPK is electronic (such as on your website) you can also include links to your social media and a stream of your most recent release.
RAMP UP YOUR SOCIAL MEDIA STRATEGY
Most artists hate the idea that social media plays an important role in becoming an established career musician, but the reality is that it does, so if you want to be noticed you must have an active and engaging social media presence.
Make sure you're using this as an opportunity to connect with fans and build your brand, rather than making it one really long sales pitch. If you get stuck, check out the 70-20-10 rule. It's a lifesaver for your social media.
GET PREPARED TO PITCH
If you're hiring a publicist, this next part won't apply to you, but if you're DIY-ing it, you'll need to begin to prepare to pitch your album for reviews, interviews, and other features. This means compiling a list of target blogs (and remembering to keep it realistic—small blogs can be your best asset), working on your pitch (keep it short and to the point, including links to your music, socials, and EPK), not being afraid to follow up, and then, when you do land a feature, being extremely responsive and remembering to share the article when it goes live and tag the outlet that featured it. That last one is extremely important!
PLAN YOUR RELEASE SHOW—AND MAKE IT SPECIAL
Odds are you're already planning a release show to celebrate the big day, but are you making it distinctive enough from all your other shows? Your album is a special occasion, so the show should feel like something out of the ordinary, something fans are going to remember, something to treat them. Meaning, it shouldn't just be you playing some new songs in the same old set.
Think about ways that you can help it to stand out. Can you offer fans an exclusive set of merch as part of the ticket price? If the release is around a holiday or carries a significant theme throughout, can you make it a themed show? Get creative and think outside the box, and you'll create an experience your fans won't soon forget.
MAKE SURE YOU HAVE A STRATEGY MOVING FORWARD
So far, we've talked primarily about the lead up to the release, which is an incredibly important time in the life of an album. But once the album drops, that's no time to stop the promotion. While your window of opportunity for press might decrease at that point, there's still a lot of opportunity to connect with fans through social media.
Think about how you can continue to keep the momentum going months after the album has dropped. For instance, if you're thinking of releasing a music video, dropping it after the album is out is a great way to drum up new interest on an aging product (for both fans and press alike).
Or consider making a series of graphics with your lyrics on them that can be shared around on socials and remind fans of why they love a certain song so much (bonus: this is highly shareable, which will really increase your engagement). Or do monthly live online concerts taking cover requests from fans and sneaking in a few of the new songs.
Whatever you do, make sure you have a plan in place, because once the album is out, the work isn't over. There's still so much that can be done, and so many ways to leave your mark.