JJ Hudson, also known as Jmojii, is a multi-talented artist based in Seattle, Washington. With her unique blend of old and new school rap, classical music, and EDM, she hopes to inspire and empower all genders through her music and life's experiences. JJ is also involved in philanthropic work as a supporter of Runway to Freedom, which aims to provide a safe place for people escaping domestic violence.
As JJ says, "Fearless, Original, Role Model." She believes in staying true to oneself and not trying to be like anyone else. As she puts it, "Bring out traits that you like from others around you and grow into a better version of you."
JJ Hudson Talks Blending Old and New School Rap, Classical Music, and EDM in Exclusive Interview. Learn How This Philanthropist and Female Artist Overcame Industry Challenges and Empowers Women Through Her Music. Plus, Find Out About Her Upcoming Projects and Insight on Pressing Issues Facing Women in the Music Industry.
Your music blends old school and new school rap, as well as classical music and EDM. How do you define your unique style?
I'm a little old school mixed with new school, and I love classical music, as well as EDM! And any music with passion and deep meaning will always grab me.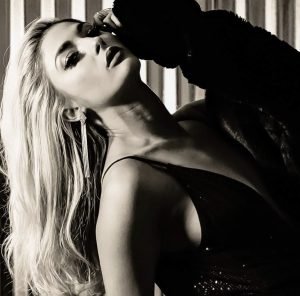 As a female artist, what challenges have you faced in the music industry, and how have you overcome them?
I feel being a female rapper/singer who is of Russian, Polish and Jewish descent causes me anxiety because I wonder if people will judge me negatively based solely on my appearance and gender, as opposed to me as an artist. But it's more of a self-created factor, as it is basic insecurity as a woman in a world where people can be extremely cruel and judgmental. I have also faced some people who acted as if they were supportive of me as a person and artist, but they were really only interested in helping if I paid them. One thing I try to focus on is we only get one life, so we must do what we love, we must surround ourselves with positive people, we must try and be the best person we possibly can, and who cares what others think! But honestly, that is easier said than done!
Can you give some examples of how your music has inspired and empowered women, and how you plan to continue that message in your future work?
I don't make music just for women; I make music for everyone! I'm for gender equality and empowerment for all. Hopefully, my life experiences, good and bad, and my efforts to overcome will inspire women and everyone will help them through whatever dark moments they may be facing.
What sets you apart from other artists?
My ability to play the piano in multiple, unique styles, combined with my ability to rap and sing and that I love many genres of music, I think those elements may add to my distinction as an artist.
What message do you hope to convey through your work?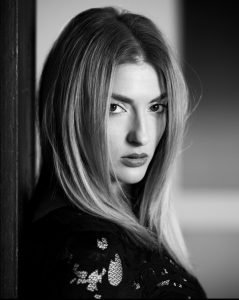 Be fearless, original, and mindful of your influence on others. Don't aspire to be something others want you to be, rather, stay true to yourself and live the best life you can. And if you fall, get back up and keep fighting and moving forward.
How has your background in modeling influenced your music career, if at all?
Modeling influenced my music career as far as presentation and style, and on wanting to encourage women to love who they are. I also model in music videos for other artists.
You are a philanthropist and support Runway to Freedom. Can you tell us more about your involvement with this organization and why it is important to you?
My cousin is a survivor from domestic violence and she started Runway to Freedom to give a safe place for people escaping domestic violence, providing resources and a runway show that displays the beauty and strength of the survivor. And for my role, I helped by providing resources. My mother creates artwork for survivors, but COVID restrictions put a halt to public events, and I'm hoping I will be a part of their shows in the future.
Who are some of your biggest musical influences, and how have they inspired your music?
I grew up listening to a lot of 90s music on the radio or on cassette. I remember when KUBE 93 and KCMU started playing rap, and I would press record on my cassette to catch a song I liked and then I'd practice the lyrics. Growing up my biggest influences were underground rap artists, both West Coast and East Coast, and 2Pac, Biggy, Jay-Z, TLC, Drake, and DPG. I feel having a variety of influences will give you an upper hand in your style, because you have more inspiration and can create more magic!
What can fans expect from you in the future, and what are some of your upcoming projects?
I have several projects I'm working on, including a song for an incredible and inspiring MMA fighter. GMS and I actually co-wrote that together. I'm getting ready to release a new single called "Why Why Why" featuring Jdore & produced by Robbie Rob. We're looking forward to see what the DJs will come up with for remixing that song. The legendary producer Eugenius did a great remix of "Let It Pop" that we want to release and we hope he will remix "Why Why Why." We're going to do an EDM version for Seattle's C89.5 because they are one of the few terrestrial radio stations that play indie artists and they have always been supportive. So it's a way to say "thank you C89." Of course, I'll have some surprises with my piano. Also, GMS and I are going to begin working on a podcast called "Voices From The 4th City" sponsored by a company called CorrioSPC. Corrio is a voice and text messaging service for prisoners, and the reason I'm going to work with them is that it's been proven that meaningful communication beyond prison walls is a major factor in reducing recidivism and promoting rehabilitation. Reducing future crimes is something that everyone should want, and I think it is important to help our communities.
What are some of the most pressing issues facing women in the music industry today, and what can be done to address them?
There will always be pressing issues that women face today, especially in the music industry. Social media is an issue because it portrays someone else's image of a perfect woman, but that image is not real. That creates a lot of mental health issues. So it's important to be aware of that and to take steps to curb this issue. Also, the current state of the marketing of women in the music industry seems solely sex-related, with few exceptions. I would like women to know that they can pick up a mic and flow and flex their skills without it having to be exclusively sexual. Certainly, embracing femininity can be empowering, but there are other matters that can and should be talked about with the bigger picture of helping our communities.
How do you celebrate Women's History Month, and what does it mean to you?
I feel Women's History Month is every month! But for me, a lot of self-care, being kind, and showing love to other women is important. One of the biggest events this month for me was watching my friend and UFC fighter, Juliana "Killer" Miller compete on ESPN+ in London. It was so inspirational to watch her fight, especially since her body hadn't acclimated to the time zone and she wasn't 100%, but she fought her heart out and was on the constant hunt for a submission. She truly showed how women can be bad ass, beautiful, and compete in a "men's" sport. It was super inspirational.
What advice or words of inspiration would you give to women who want to pursue a career in the music industry?
It's important to not live in fear, trust the development process, stay original and true to who you are by being you and not anyone else, but don't be afraid to show and adopt elements of the artists who inspire you. And most importantly, believe in yourself and be willing to work hard. Remember, "hard work beats talent when talent refuses to work hard."
Don't forget to check out JJ Hudson's social media and music platforms for more updates and to listen to her unique blend of old school and new school rap, classical music, and EDM:
BIOGRAPHY:
JJ HUDSON, also known as Jmojii, has been performing on stage since the age of 4. Her love for all genres of dance and classical piano inspired her to invent her own 88 key run style. Being a fifth-generation artist and musician, she drew inspiration from her family's "deep roots" back to Russia and Poland.
At the age of 14, following her passion for dance and music, JJ ranked in the top 20 at the ESPN National Cheer Competition, competing with her 18-year-old teammates. She developed and performed two signature moves with her team that became nationally acclaimed.
JJ's modeling career path took her to Miami, Florida, where she perfected her craft at a very young age. Currently residing in Seattle, Washington, JJ loves to travel anywhere in the world and enjoys living her tomboy-hip-hop spirit with her love of the outdoors and sports.
JJ has been blessed to be mentored by the legendary DJ Nasty Nes, GrandMixer GMS, and The High Children Family. She considers Nasty Nes as a daily source of inspiration and credits him for opening her eyes to her craft. As JJ puts it, "Nes always inspires me to do better in the industry, and his wealth of knowledge about music is vast and amazing."
JJ is also involved in philanthropic work as a supporter of Runway to Freedom, which aims to provide a safe place for people escaping domestic violence and provides resources and a runway show that displays the beauty and strength of survivors.
In JJ's own words, "I use music as a positive outlet after I escaped homelessness, drug addiction (now three years clean from addiction), and being a survivor of domestic violence. I just want to be a positive role model for those who experienced similar life stories." With her unique blend of old school and new school rap and love for classical music and EDM, JJ hopes to inspire and empower all genders through her music and life's experiences.
As JJ says, "Fearless, Original, Role Model." She believes in staying true to oneself and not trying to be like anyone else. As she puts it, "Bring out traits that you like from others around you and grow into a better version of you."