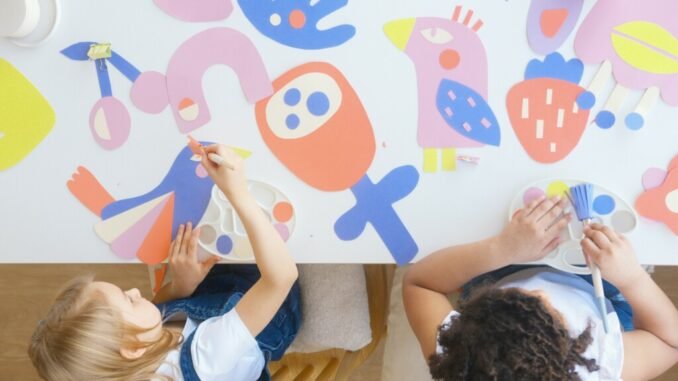 Via Pexels
Kids are always looking for ways to have fun. As parents, you want your kids to be active and entertained so they can grow up healthy and happy. If you're at a loss on what to do this weekend, check out these 8 activities that will keep the kids busy while allowing them to learn something new too!
Do A Science Experiment
This weekend, your kids will probably have a lot of energy to burn. It can be hard for them to sit still and watch TV all day when they could be outside running around freely. Try experimenting with household ingredients like baking soda and vinegar or liquid dish soap to create fun chemical reactions. You can even try to make slime, this is an activity that never gets old, even for adults! It's bright and shiny and easy to make at home.
Family Outing
An important activity for keeping kids busy and active. Make sure to pack sunscreen, hats, water bottles, snacks, and extra clothes in case of spills or accidents.
Kids love exploring new places and adding to their ever-growing collection of knowledge. This weekend you may want to take your kids out somewhere they have never been before! Keep in mind that this could be as simple as a new park, or it could be something more exciting such as an amusement park or the local zoo.
Go On A Scavenger Hunt
Put together a scavenger hunt of things to find around the house or garden, for example: find something green, or something that can be used to color. If you are a bit more creative, create a treasure map with some clues. Reward them with their favorite treat when they complete it!
Movie Night
Make movie night special and make a big bed on the living room floor with lots of pillows. Get the kids to make tickets for the chosen movie and some pretend money to buy popcorn and drinks.
Make popcorn, chips, and other finger foods like pizza rolls or nachos that can be easily eaten with one hand while watching the movie.
Bake Something New
Teach the kids to bake something fun this weekend. Ask them to help you measure and pour ingredients, and let them decorate the finished product. An easy thing to get kids to help with is cupcakes or even a mermaid cake. This cake uses stuff you may have at home already or won't be too hard to get. It doesn't just have to be for birthdays, invite the grandparents or cousins round for afternoon tea to enjoy the kids' wonderful baking.
Make Chores Fun
Chores are a turn-off for any kid, especially when there is nothing fun about doing them. Put on some music to make the process fun. Play upbeat songs that will get kids moving, especially if they are younger or in elementary school. This is a great way to burn off extra energy too!
Make chores into a game by giving your child an age-appropriate task to do around the house. You can make cleaning out their room an Easter egg hunt with candy hidden in various places for them to find! Or have them take on folding laundry as Simon Says and see if they can follow each direction you give them before the music stops.
Let your child help you decorate for the holidays. They can string garland on a wreath, plant flowers in flower pots, or even set up their little nativity scene if they are old enough to do so! Take this time as an opportunity to teach them about different holiday traditions and how we celebrate each one.
Arts And Crafts
Crafting is always a fun activity for kids to do. From painting, drawing, or even making cards these are things that let them be creative and express themselves in their way. You can also make this into an educational experience by having your child research animals, people, or different countries before creating art based on what they learned!
If they are too young to research, ask them to draw a new picture for your fridge, or their Grandparent.
Go Outside!
Sometimes the best play is all outside, so be sure to spend some time at the park or in your yard. Take a ball and teach them to play catch. Set up games like badminton, croquet, or horseshoes in the backyard. Kids love being outdoors. Spending time outside is a great activity for kids to engage in throughout their childhood, and it also helps them develop important skills such as self-control and creativity.
Kids love to play and parents feel happy when their kids are occupied with something other than the television or computer. This weekend, try some of these ideas for keeping your little ones busy!