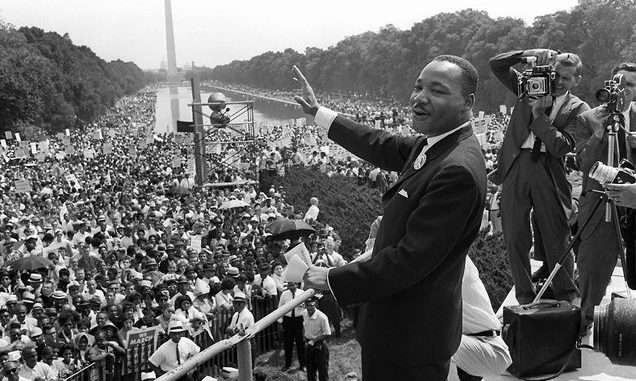 US civil rights leader Martin Luther King, Jr., waves to supporters from the steps of the Lincoln Memorial on Aug. 28, 1963 on The Mall in Washington, DC.
Today  we remember the life and legacy of late civil rights leader Dr. Martin Luther King, Jr., whose contributions to the social and political sphere of the United States are innumerable. And over the years, the global musical sphere has become filled with songs inspired by or dedicated to Dr. Martin Luther King, Jr. 
Pride In The Name Of Love
U2 (1984)
Pride In The Name Of Love
U2 (1984)

If listeners have any doubt that Martin Luther King Jr. is the subject of "Pride (In the Name of Love)," Bono's lyrics three minutes in drive the point home: "Early morning, April 4/Shot rings out in the Memphis sky/Free at last, they took your life/They could not take your pride." However, history buffs will note that the song, which was the lead single off U2's 1984 album "The Unforgettable Fire," contains a factual error — MLK's assassination took place in the early evening, rather than the early morning. But that didn't matter to music fans — the Edge's guitar jangle at the beginning of "Pride (In the Name of Love)" is one of the most recognizable riffs of the era.
By The Time I Get To Arizona
Public Enemy (1991)

"By The Time I Get To Arizona" was written by Public Enemy's Chuck D in 1991 as a direct reply to Arizona officials, including John McCain and Fife Symington, for rejecting the federal holiday celebrating Martin Luther King Jr. Just last year, the song's sentiments resurfaced when the same state's governor, Jan Brewer, decided to sign into law the Arizona immigration bill, which gave police the power to detain people they suspect to be undocumented, proving that the same politics written about in "By The Time I Get To Arizona" are alive and well in Arizona today.
Happy Birthday
Stevie Wonder (1981)

Stevie Wonder's "Happy Birthday" track was written in 1981 by the pianist/social activist as part of the campaign to have the birthday of Martin Luther King, Jr. become a national holiday. The song's lyrics, above keyboard synthesizers, find Wonder questioning why anyone would oppose to commemorating King's legacy by setting aside a day for him. "I just never understood, how a man who died for good/could not have a day that would be set aside for his recognition," he sings. Preach, Stevie!
We Shall Overcome
Bruce Springsteen (2006)

The Boss' 2006 " Seeger Sessions" disc featured this protest tune as its centerpiece. "We Shall Overcome" could conceivably be applied to most instances of widespread oppression, but its origins lie within the U.S. civil rights movement in the middle of the century. The song soars, gaining momentum (and instruments) until the tune is brimming with the encouraging spirit of MLK's hopeful mantra.
One Vision
Queen (1985)

"Look what they've done to my dream," sings Freddie Mercury over a Stones-esque guitar lick in this 1985 single off "A Kind of Magic." Mercury sounds altogether vibrant, singing positive verses of a hope for unity against vivacious instrumentation. Oh, and those masked vocals at the beginning of the tune? "God works in mysterious ways… mysterious ways…" Indeed, Queen, indeed.
Like A King
Ben Harper (1994)

This track off Ben Harper's 1994 debut "Welcome to the Cruel World" is a rootsy folk tune, the allure of which lies in its stalwart political stance. "Like a King" draws parallels between MLK and Rodney King, a victim in the early-'90s L.A.P.D. police brutality cases. Harper's stance on the matter is easily discernible — "Martin's dream," he avers, "has become Rodney's worst nightmare."
I Have A Dream
Common feat. Will.i.am (2006)
Sampling Dr. Martin Luther King, Jr.'s famous "I Have A Dream" speech, Will.i.am and Common joined forces for a track that appeared on the soundtrack for "Freedom Writers." "My dream is to be free," Will.i.am sings on the chorus, while Common shares verses about struggle, pain and hope. Even the rap generation respected Dr. King's struggle.
MLK
U2 (1984)

Perhaps, to some, it is a surprise that an Irish band would be the one to create two of the most prolific songs about an American historical figure, but that fact just goes to show MLK's influence worldwide. "MLK," a brief lullaby, shows up on the same album as "Pride (In the Name of Love)," but the two songs couldn't be more opposite. Both songs led to Bono being honored by MLK's official memorial, the King Center.
King Holiday
King Dream Chorus and Holiday Crew (1986)
Martin Luther King, Jr.'s dream was shared by many, including the Fat Boys, Menudo, El Debarge, New Edition, Run-D.M.C., the late great Teena Marie and an early Whitney Houston. Here, the all-star cast gets together to sing and rap in honor of Dr. King and what he believed in. Nevermind the antiquated, low-budget, low-quality video — this one is for the history books!
Dream Speech
The Gregory Brothers' Auto-Tune the News (2009)
Dr. Martin Luther King, Jr. was known more for his speeches and activism than his singing ability. But when the Gregory Brothers began their series of auto-tuned video speeches and news stories, auto-tuning MLK's "I Have a Dream" speech was a no-brainer. As with most Gregory Brothers remixes, the resulting "song" isn't incredibly catchy. But for what it lacks in catchiness it makes up for in its overall message of unity, which has not been lost in the vocoding process.
Source : Billboard