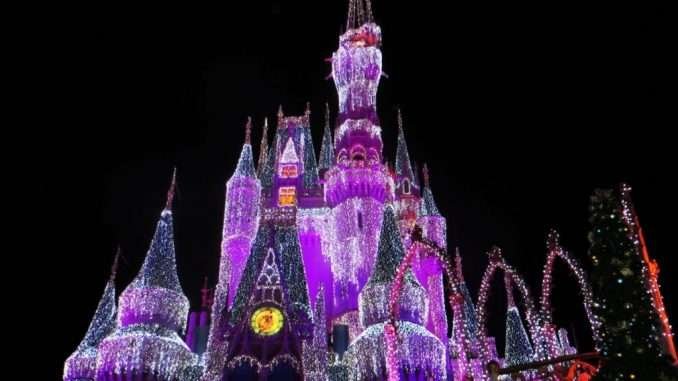 planning-a-trip-to-disney-for-a-child-with-disabilities-or-medical-needs/
We devote thousands of hours of research to help you get Big Travel with Small Money. You support us by signing-up for credit cards through partner links which earn us a commission. Here's our full Advertising Policy.
Disney:  The happiest place on Earth.  It's no wonder that kids always end up having a wonderful time at these parks!  And it's super easy to save big on a trip there using rewards earned from the best travel credit cards.
But if you're a parent of a child with certain health or medical needs, you might be wondering if Disney parks can still be an enjoyable experience for them.  Fortunately, because of the care and accessibility Disney offers its guests, children with medical or health needs can absolutely have a fun and stress-free time at the park!
It should be no surprise that Disney has been ranked by a number of sites as being the most accommodating theme park in the US.
If you're a parent of a child with a disability or health needs and are planning a trip to Disney, we'll dive into everything you'll need to know to ensure your child is able to experience the park to its fullest!
Disability Access Service (DAS) Pass
When it comes to theme parks, we all know it's inevitable to have to deal with lines for various rides and attractions.  Depending on your child's health needs though, waiting in long lines throughout the day may not be an option.  Fortunately, there is a solution!
Disney offers a Disability Access Services pass, or DAS for short.  With the DAS pass, you won't need to actually wait in line for an attraction.  Instead, you'll be given a return time.  After a return time is issued to you, not only will you not have to wait in line, you'll be able to enjoy the rest of the park!  It's a great way for you and your child to make the most of their day, because you'll still have a virtual spot in line at an attraction, and in the meantime still be able to meet characters, grab something to eat, or visit another ride or show!
In fact, one of my favorite YouTubers who goes by the handle "Chronically Jaquie" battles multiple chronic illnesses on a daily basis.  Yet that doesn't stop her from living life to its fullest, including enjoying the Epcot theme park at Disney World!  She has documented many of her trips here and uses the DAS pass because it helps accommodate her disabilities.
The DAS pass is good for one return time.  Once redeemed, you can then receive a return time for another attraction.
If you think the DAS pass is something you'll need, here are the steps to obtain one!
Obtaining a DAS Pass
Step 1.   Stop by a Guest Relations Main Entrance Location
Once you arrive at the park, stop by a Guest Relations Main Entrance location and let them know you're interested in obtaining a DAS pass.  You won't be able to obtain a DAS pass beforehand, so plan accordingly!
Note that everyone who will be accompanying the person with the DAS pass must be present!
Step 2.   Present Your List of Reasons a DAS Would Help
Inform the Cast Member(s) the reasons a DAS pass is needed.  Instead of telling them the specific health needs or disability your child may have, it's more helpful to describe how waiting in lines negatively affects them.  So a few examples that might be helpful:
My child cannot stand in line for more than 5 minutes in this weather, otherwise they may pass out
My child has difficulty with loud noises, and standing in lines for too long could cause them to _____
If you're told you're not eligible for a DAS pass but you're sure it would be beneficial, try explaining it in a different way.  I found a report online from a user named Adrienne who spoke with 2 different Cast Members and had 2 entirely different outcomes!  Her husband was initially denied a DAS pass and told to rent a wheelchair after explaining he had issues with balance when standing.  But after explaining that the wheelchair was a last resort, a 2nd Cast Member seemed to agree that asking an already-disabled individual to use less of their remaining abilities to qualify for a DAS pass simply didn't make much sense.
Step 3.   Registration
Once the Cast Member determines a DAS pass would be beneficial, they'll walk you through the registration process.
You'll need to provide a valid ticket to the park and have your photos taken.  A Cast Member will then review the DAS process with you and have you sign to accept the terms and conditions.
DAS passes are valid for up to 60 days, so you won't have to go through the registration process every single time if you're planning multiple trips to the park within that time frame.
Getting to Disney for Cheap
Park tickets to Disney can be pricey, so planning a family trip here can be expensive if you're not careful!  Fortunately, if you have one of the top travel credit cards, you'll be able to save tons on your flight and hotel!  That's because earning the welcome bonus on even a single card could mean $1,000s in value!
And our guide to flying with a disability stress-free may have some helpful tips if you are nervous about flying!
Options for Flights
1.   Transfer Chase Ultimate Rewards Points to British Airways for Short-Haul Partner Flights

I'm a huge fan of British Airways for short-haul flights, and depending on where you are in the US, it could cost just 7,500 British Airways Avios points to make your way to Disney!
British Airways is one of Chase's many travel partners, and points transfer at a 1:1 ratio.  And there are a number of Chase cards that currently have generous welcome bonuses:
Because British Airways is partners with American Airlines and Alaska Airlines, you can redeem British Airways Avios points for award flights to Disney on these airlines.  And save your money for Disney tickets!
2.   Southwest Companion Pass
The Southwest Companion Pass can be a great way for you and your family you travel to Disney for cheap!  That's because the pass lets a friend or family member travel with you for just the cost of taxes and fees on a Southwest flight, and is why many people consider the Southwest Companion Pass to be the best deal in travel.
You'll need to fly 100 one-way flights within a calendar year on Southwest to earn the Companion Pass.  If you're not a frequent flyer, you can still get the pass by earning 110,000 qualifying Southwest points within a calendar year.
Perhaps the best part is that points earned on a Southwest credit card currently do count towards qualifying for the Companion Pass!
3.   Pay with Cash and Erase the Expense Later!
If you're looking for something simple, you can always pay cash for a flight, and then "erase" that purchase with miles earned from certain cards, like the Capital One® Venture® Rewards Credit Card.  The Capital One Venture is currently offering 50,000 Venture miles after spending $3,000 on purchases in the first 3 months of account opening.  Those bonus miles are worth $500 in flights, hotels, and more!
You can redeem Capital One Venture miles for nearly any travel purchase, including hotels, taxi rides, and flights.  To redeem the miles for a purchase, just make a purchase as you normally would with the card, then log-in to your online account within 90 days, and "erase" the purchase with miles!
Options for Hotels
1.   Transfer Chase Ultimate Rewards Points to Hyatt for Hotel Stays

There are plenty of terrific hotels around Disney you can book for free using points!  Chase Ultimate Rewards points are one of our favorite types of points to earn and redeem.  They're incredibly flexible, with a number of excellent transfer partners, such as Hyatt!
For instance, by transferring your Chase Ultimate Rewards points to Hyatt, you'll be able to book great hotels like the Hyatt Regency Grand Cypress.  It's a category 4 Hyatt hotel, where award stays cost just 15,000 Hyatt points per night!
With the intro bonus of 80,000 Chase Ultimate Rewards points after meeting minimum spending requirements on the Ink Business Preferred Credit Card, you could book nearly 6 nights at this hotel with almost no cash out of your pocket!
Alternatively, you could use those points to book other hotels through the Chase Travel Portal, where your 80,000 Chase Ultimate Rewards points are worth $1,000 in paid travel.
2.   Pay With Cash Up Front
If you'd rather have the flexibility of booking another hotel or perhaps even an Airbnb, you can still save money with a card like the Capital One® Venture® Rewards Credit Card.  Miles earned on the card are worth 1 cent each, and you can use them to "erase" nearly any travel purchase made in the prior 90 days.
Preparations for Disability / Medical Needs
Depending on your child's specific health or medical needs, taking precautionary and preparatory steps before your trip to Disney can make the whole experience much more enjoyable.
The most convenient option is getting a skilled care giver recommended by your child's specialist coordination team.
Fortunately, Disney offers a wide host of services to help you in this area!
Cognitive Disabilities
If you'll be planning a visit to Disney and your child has any type of cognitive disability, like autism, there are a number of services to help you enjoy the park at its fullest!
Advanced ticket purchase
Stroller / wheelchair rental
Rider switch
Break areas
Companion restrooms
Attraction guides
Dietary accommodations
DAS
If your child has autism, the DAS pass can really come in handy!  When you are applying for the DAS pass, just make sure you explain the specific circumstances of what happens when your child stands in lines.  For instance, do they get really loud or are physically unable to stand still in a line for extended periods of time?  Explaining these items will help you get the DAS pass more easily, as opposed to simply stating what cognitive disability they have.
Forum user magic1106 reported success using this exact method!  When asked why her daughter needed the DAS pass, instead of stating what disabilities they were dealing with, she simply explained that her daughter gets anxiety and panic attacks in closed areas where there are a lot of people and no easy way to get out.  There was no hesitation in granting her a DAS pass!
Personal stories can also help Cast Members better understand why and how the DAS pass will help you.  For example, online user stenmarks shared that when they visited Disney for the first time, her daughter managed to get her leg stuck between the rails of a ride and needed Cast Members to help get her out.  This was because her daughter tends to fidget in large crowds with lots of noise.  After being equipped with a DAS pass, they report it has made a world of difference in allowing them to better enjoy the park!
Early preparation beforehand can also come in handy.  Bringing along items like a sensory toy or stress ball can be useful as a calming item in case the unexpected happens.  Earphones and earplugs can also be helpful to block out noise if it gets to be too much.  Finally, creating a schedule beforehand of attractions to visit, when to take breaks, etc. can help take the pressure off everyone and help you feel more organized.
Visual
Disney offers a number of services to help those with visual impairments, such as:
Audio description devices
Braille guidebooks
Stationary braille maps
Audio description devices provide supplemental audio information and narration at certain attractions.  They're available at Guest Relations when you first arrive at the park at no charge, although you do have to place a $25 deposit which will be refunded to you once you return the device.
A number of braille guidebooks are also available for each theme park, attraction, and multiple restaurants.  There are a limited number of these available to rent if you prefer, and they also require a $25 refundable deposit.
ADHD / Behavioral / Attention
For children with ADHD, preparation and practice beforehand can go a long way in helping them enjoy the day.  In the days and weeks leading up to the trip, it can be helpful to:
Practice waiting in line in case they are not able to obtain a DAS pass
Choose a spot on the Disney map in case you get separated
Create and review the schedule of attractions to visit
Having a schedule to follow as far as which attractions to visit, when to eat, and when to take breaks can really help in keeping everyone's mind from wandering.
And because unplanned things happen, make sure to designate a meeting spot in case you get separated!
Diabetics
You'll definitely want to do some planning and preparation before your trip to Disney if you will need to be managing a family member's diabetes!
Perhaps first and foremost, it's a great idea to wear some form of health alert identification while you're at the park, such as a bracelet.  In the event of an emergency, it can help first responders more quickly and accurately treat your condition.
Also be aware that a number of factors can affect your insulin requirements at the park.  Exercise, heat, and adrenaline can all change your typical insulin needs.  So it's a good idea to check your blood sugar levels more frequently than you normally would.
Plan ahead of time as far as figuring out how you'll be managing your medical equipment as well.  Make sure everything is labeled, and that you can keep it relatively mobile in a bag that you can take with you on rides.
First Aid stations at the parks can be used to keep your medication refrigerated.  But if you want to avoid having to constantly go back to a First Aid station, you can keep some cool packs for at least some of your medication on the go.
Finally, when it comes to your diet, you'll want to think about what snacks to bring with you.  Many experts, including the American Diabetic Association, recommends sticking to your regular eating schedule as much as possible to keep your blood sugar even.  Full service restaurants may be your best bet, because you can always request that the chef come out to discuss your specific dietary needs.  Sites like Allergy Eats can also be helpful in planning a trip to Disney!
Service Animals, Equipment Rentals, and Accessible Restrooms
If you'll be bringing a service animal with you to the park, you'll be glad to know that they will be welcomed at most locations.  There are however, some restricted areas where your service animal may not accompany you, simply because of the nature of those attractions.  Disney publishes a list of those restricted locations here.
Those with mobility challenges can also rent an electric conveyance vehicle (ECV) or wheelchair when they arrive at the park.  Wheelchairs are available for rent for $12 per day, and ECV rentals go for $50 per day.
Wheelchair and companion-assisted restroom facilities are also available at various locations in each theme park.
Bottom Line
Health or special medical needs don't have to stand in the way of enjoying The Happiest Place on Earth, and Disney makes sure of that with the number of accommodations available!
The DAS pass can be extremely helpful, especially for kids who are unable to wait in lines for extended periods of time.  And depending on your family's specific health and medical needs, there are a number of accommodations available to you, such as equipment rentals, First Aid stations, break areas, and more.
Finally, with some of the best travel credit cards, you'll be able to save your hard-earned cash by booking flights and hotels with miles and points!