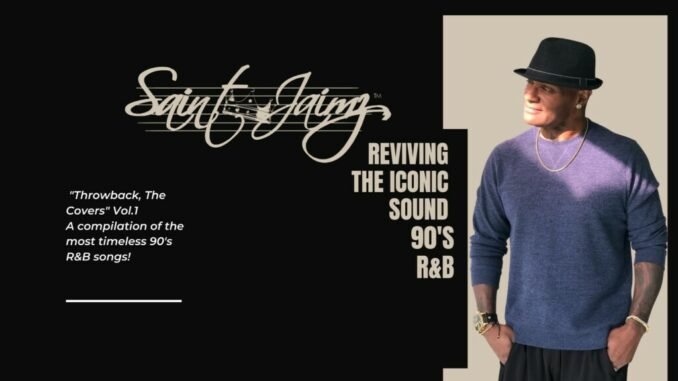 Rapidly rising R&B icon Saint Jaimz launches back onto the global music scene with his latest unforgettable EP "Throwback the Covers (Vol. 1).
The six-track epic is a compilation of the most timeless R&B tracks to grace us over the past few decades. He really does justice to the classic sound of this brilliant genre by putting his own fresh spin on every song. It's brimming with positive energy and a softly soothing sound that really draws you straight into his world. The way he sings is so intimate it feels like we're right there with him. The kind of versatile vocals that soothe the soul and send us to a nicer place.
Opening up with the classic "Being Gentle"(993k streams on Spotify"!), he really opens up strongly. With a gorgeous duet with up and comer "Sene" that really pulls on the heartstrings. It's the perfect bittersweet anthem for anyone that's gone through the rollercoaster of love. Next we are brought into luscious emotion-drenched soundscapes in "Baby Come Back". It's a cry out to that special someone in his life that he can't live without. The potently perfect song for anyone missing that person they cherish the most. It has a distinct catchy pop feel to it that makes it memorable. "Rock Wi'tcha" is more electronic-fuelled as we are taken on a journey through complex rhythms and smooth soundscapes.
Sene comes back in "Baby Come Back to me", an unforgettable duet that really sweeps you off your feet. The fierce female singer really takes center stage in this one as she soothes us with mesmerizing melodies. Up and coming icon Kaleo Ross makes an appearance in the next track "Who Do You Love". It perfectly blurs the line between the more modern beat-driven style and the heartfelt bars of classic R&B. Truly a track that would be accessible to fans young and old.
We finish up on "If You Were Here Tonight", a luscious layered harmonic track that tells a deep story. It's the kind of song that if you really focus on the lyrics you can feel the artist's pain. Overall it's a boundary breaking release that would appeal to R&B fans of all eras.
Whether you're looking for that fix of the classic sound or looking for something more fresh, there's something to enjoy in this beautiful record!

Pump it up magazine: Pump it up magazine – Vol.6 – Issue #4 – R&B Rising Star Saint Jaimz
✅ On the cover – SAINT JAIMZ – Interview with Saint Jaimz, entrepreneur, singer, and songwriter, an inspiring figure in the music industry!✅ Review: NFTS – Non Fungible Tokens Overtaking The Music Industry✅ Top Tips – How To Rapidly Grow Your Instagram✅ Beauty – Anti-Aging Trend – Led…
To know more about Saint Jaimz, please visit:
http://www.facebook.com/saintjaimz2​
http://www.instagram.com/saintjaimz​
http://www.twitter.com/saintjaimz916