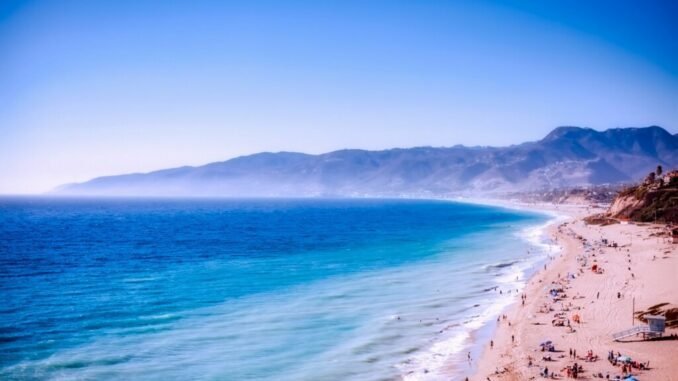 Malibu Pier #1
The Malibu Pier is an attraction that dates back to the early 1900s and has many modern features. The pier measures in at 780 feet and was built in the early 1900s. This pier is the center of California's surf culture.
Just west of the Pier is the famous Surfrider Beach. For over 100 years, surfers have been flocking to this right-handed break. It's still a popular spot for both local surfers as well as wave-riders from all over the globe. Malibu Lagoon State Beach lies further west and provides a dynamic environment, where Malibu Creek meets with the Pacific Ocean.
The Getty Villa #2
The Getty Villa, a beautiful recreation of a Roman country home east of Malibu in Los Angeles' Pacific Palisades neighborhood, is the Getty Villa. It is one of two Getty institutions that operate it. Their mission is to share and preserve ancient artifacts from all over the globe.
"The Getty Villa is unlike any museum. You will enjoy the grounds, which include several formal gardens. These beautiful landscapes feature statues, fountains, and columns known as peristyles. These outdoor facilities offer many photo opportunities."
Zuma Beach #3
"Zuma Beach is Malibu's most popular beach because of several reasons. This beach is unique on the Malibu coast because it's extremely long and wide and there are no mansions at its back. You can also access it without having to climb a steep path or descend a set of stairs. There is ample parking."
The beach is popular for large families because of its expansive nature and easy parking. This makes the beach popular for activities such as volleyball, sunbathing, and walking along the shoreline. You can also enjoy the ocean activities like swimming and surfing. During daylight hours, lifeguards are available.
El Matador State Beach #4
El Matador State Beach, located just a few miles west from Point Dume, is one of three beaches that make up Robert H. Meyer Memorial State Beach. Because of its stunning shoreline, El Matador is the most well-known. These boulders are also called sea stacks. They invite exploration.
The Pacific Coast Highway is the closest to El Matador State Beach's gravel parking lot. It is difficult to find a spot on weekends because there are not enough parking spaces. It is best to arrive early in the morning to secure a spot on the beach.
Point Dume State Natural Preserve #5
Point Dume is a beautiful stretch of Malibu coastline, with stunning cliffs and wide beaches. This natural landmark lies near the Malibu coast and forms the northern border of Santa Monica Bay. Point Dume is home to many wildlife species, including hundreds of bird species and sea creatures, in addition to many visitors during the week.
Point Dume's 34-acre headland, which is part of a State Natural Preserve, is located in the middle of Point Dume. This preserve is a great place to hike and observe nature. There are miles of views over Santa Monica Bay. Visitors will need to bring a flashlight so they can return to their car at night. Sunset is an amazing time to visit.
Neptune's Net: Fresh Seafood #6
Neptune's Net is the most famous Malibu seafood restaurant. Since 1956, it has been in the same location. It is a popular spot for celebrities, locals and motorcyclists.
"The Pacific Coast Highway is where Neptune's Net can be easily identified. It may be recognized by its roles in Hollywood movies such as Point Break or Ironman 3.. The restaurant is open 364 days a year, except Thanksgiving."
Neptune's Net may be the most well-known seafood restaurant in town, but it's not the only one. Duke's Malibu, Malibu's Seafood Fresh Fish Market and Patio Cafe are two other great places to check out.
Malibu Creek State Park #7
The best place to see the Santa Monica Mountains beyond Malibu is Malibu Creek State Park. The popular state park covers more than 8,000 acres with 35 miles worth of hiking trails and fire roads. This vast area includes more than 3,000 acres of Natural Preserve. It is a popular spot for wildlife sightings.
The park is accessed by Malibu Creek, which runs for 14 miles. This riparian corridor is the main hiking trail, with many side trails that branch in every direction. Even for novice hikers, this Main Trail can be walked on a wide path. You will also find the location where the 1969 Planet of the Apes movie was filmed.
Malibu Lagoon State Beach #8
Malibu Lagoon State Beach also includes Surfrider Beach and Malibu Pier to its east. For those who wish to explore the lagoon, there is a separate parking lot at the south end Cross Creek Road. Interpretive information is available here. This guide shows you how to navigate the lagoon and eventually leads you to the beach.
Leo Carrillo State Park #9
"Leo Carrillo's shoreline is divided between a northern and southern beach. Both beaches can be accessed from the park's entrance. They are located on the opposite side of the PCH to the ocean. At the center of the beach is the protruding rock formation Sequit point. When the ocean is receding, you will see tide pools and sea caves."
FAQ: Places to visit in Malibu
What is Malibu famous for?
Malibu is a beautiful city famous for its beaches, natural hiking trails, and the many celebrities that have homes in its region. With a mix of laid-back attractions and upscale luxury hotspots, there are so many places to see and places to go within the vibrant, sunny town.
Can you swim at Malibu Lagoon?
This sandy beach is backed by a lagoon which you cross on boardwalks. As well as surfing, swimming and sunbathing this beach is also great for bird watching due to the nearby lagoon.
How long is the Malibu Pier?
The Malibu Pier is 780 feet in length—pretty short by California pier standards, and ranks around 26th in length of over-the-ocean piers (Santa Cruz comes in as the longest.)