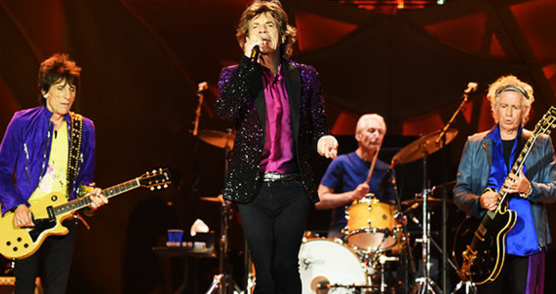 The Stones are set to play a historic Havana concert on March 25.
The Rolling Stones are eager to be the first Anglo-American rock band to play Cuba, but they weren't about to compete with Barack Obama for the spotlight.
Reuters UK reports that The Stones pushed back their history-making concert five days (from March 20 to 25) upon learning the American commander-in-chief was touching down in Cuba on March 20.
"He's our opening act," Rolling Stones production manager Dale "Opie" Skjerseth joked to Reuters. "At one point we thought he [Obama] was coming to the show," he explained, although it appears the President's 48-hour visit did not leave time for an appearance.
Staging the Rolling Stones' Historic Havana Concert: 'We Have to Bring in Literally Everything'
The show is expected to bring approximately 500,000 people to Havana's Ciudad Deportiva de la Havana. According to the Reuters report, the band shipped 61 containers with an estimated 500 tons of equipment to Cuba in order to make the unprecedented concert possible. The effort took 140 Rolling Stones employees and at least 80 Cubans to get the grounds ready. Spectators have been invited under a free, first-come, first-served agreement.
An Insider's Guide to Cuba: Where to Stay, Eat (Like Jay & Bey) and Chill
John Meglen, co-president of AEG Live's touring division Concerts West, told Billboard:
It took a little while. We had some scheduling issues. We were trying to lock down certain date; it was complicated by President Obama's visit on March 21. We would have liked to have gone in a little earlier. We had to pick the right time. March 25 worked out very well for all of us, it worked out well for Opie and his production guys, it worked well for [AEG Live svp] Adam [Wilkes] and his team, and it worked for the Cuban government team. They have a lot of work coming up with Obama coming in. They want to make sure they do that right, and when we do the Rolling Stones, we do that right also.
Concerts West has produced the Stones' recent tours, including 2016's America Latina Olé stadium tour, which the Havana gig caps off. The addition to the band's 2016 quarter one tour of Latin America marks a cultural milestone since the United States and Cuba moved to normalize their international relations in recent years.
Mick Jagger and company will become the biggest act to play Cuba since the country's 1959 revolution led to the rejection of rock bands like Elvis Presley and The Beatles.
–Additional reporting by Ray Waddell