Guest Post
$125.00
Are you passionate about entertainment, lifestyle, or humanitarian awareness? Would you like to showcase your expertise and reach a new audience? Look no further than Pump It Up Magazine!
To get started, please send your guest post to info@pumpitupmagazine.com. We're excited to collaborate with you and give your message the exposure it deserves! Please cc anissa@editons-la.com 
We're actively seeking guest contributors who can provide fresh perspectives and valuable insights on a range of topics. Whether you're an industry expert, a thought leader, or simply someone with a unique perspective, we welcome your guest post submissions.
By sharing your knowledge and experiences through a guest post on Pump It Up Magazine, you'll have the opportunity to engage with our readers and promote your own brand or work. It's a win-win situation, allowing you to reach a wider audience and contribute to our vibrant community.
Join us in spreading inspiration, entertainment, and awareness through the power of guest blogging. We can't wait to showcase your talent on Pump It Up Magazine!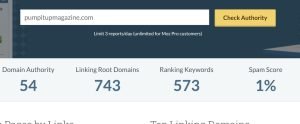 Description
Pump It Up Magazine Editorial Guidelines:
Pump It Up Magazine is an Entertainment, Lifestyle, and Humanitarian Awareness Magazine. When purchasing guest posts and link insertions for Pump It Up Magazine, please adhere to the following editorial guidelines:
Relevance: Ensure that the content of the guest post aligns with Pump It Up Magazine's focus on entertainment, lifestyle, and humanitarian awareness. The post should provide value and be relevant to our audience.
Originality: Only accept unique and original content. Plagiarism is strictly prohibited, and we require content to be authentic and exclusive to Pump It Up Magazine.
Quality: Demand high-quality writing that is engaging, well-structured, and error-free. The guest post should provide valuable information, insights, or entertainment to our readers.
Link Placement: Discuss the preferred placement of the link within the guest post with our team. The link should be naturally integrated into the content and not appear spammy or forced.
Anchor Text: Specify the desired anchor text for the link, keeping in mind the relevance to the linked page and the overall context of the content. The anchor text should be organic and flow naturally within the guest post.
Disclosure and Nofollow: Comply with relevant guidelines, such as FTC regulations or search engine guidelines, regarding disclosure and the use of nofollow attributes for sponsored content or paid links. Ensure transparency and follow best practices.
Length and Formatting: Follow our preferred length and formatting guidelines for the guest post. We typically require well-structured articles with proper headings, subheadings, and a recommended word count. Adhere to these guidelines to maintain consistency.
Images and Media: If the guest post includes images or media, ensure they are relevant, high-quality, and properly attributed. Verify copyright permissions and provide suitable captions or alt tags for accessibility.
Author Bio: Include an author bio section with a brief description of the guest author and their expertise. We allow links within the author bio but reserve the right to review and potentially modify them to ensure relevancy and adherence to our guidelines.
Editorial Review: Pump It Up Magazine reserves the right to review and edit the guest post before it goes live to ensure it meets our quality standards and adheres to our editorial guidelines. This step allows for any necessary revisions or adjustments.
Please note that we do not accept content related to casinos or crypto. We appreciate your understanding and cooperation in aligning with our content focus.
By following these editorial guidelines, you can ensure that the guest posts and link insertions purchased for Pump It Up Magazine meet our specific criteria in terms of relevance, quality, and adherence to our guidelines.