Photo by Edgars Kisuro:
Building a timeless wardrobe is something that we should all consider. Having a timeless wardrobe means that whatever you wear and whenever you get dressed, you always feel amazing and well put together.
Building a timeless wardrobe is not impossible or a task that only a certain few people can complete. Using this guide you will guarantee to build your perfect, timeless wardrobe.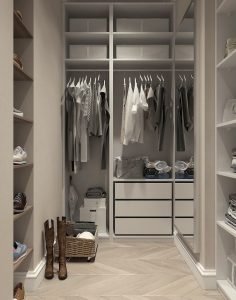 Invest in occasion wear from good quality companies
Whether or not you are someone that often goes to special occasions or events, it is a wise idea to invest in some occasion wear from trusted and reputable companies. A little research can go a long way so let Google be your friend here. You should be able to find lots of information about reputable companies online, like this Wikipedia page about the Jovani founder, for example, to help ensure you make good purchasing decisions.
Consider using a personal stylist
Using a personal stylist, you can unleash the power of personal style and ensure that whatever items you buy for your wardrobe will flatter you and you will feel great in them. Hence, you will always spend your time and money on clothing and accessories that will always be used in your wardrobe. 
Building a timeless wardrobe can come from expert help and ensuring you spend your money on pieces that can be mixed and matched and ensure that you feel great when wearing them.
Forget about the trends
Another great way to build a timeless wardrobe is to forget about the trends and focus on the things that you love when you go shopping. Although you might be able to appreciate other people wearing the trending clothing and accessories that are being seen in magazines and on social media, you might not feel comfortable or confident in them yourself.
You need to wear clothes that make you feel comfortable and confident, and if that means avoiding the trends, then so be it. Avoiding trends would also guarantee that you can build a timeless wardrobe, as you will not be filling your closet with things that will only be trending for a month or so. When you add classic pieces to your wardrobe that you know will always make you feel comfortable, then that is the meaning of a timeless wardrobe.
Buy pieces that you can layer
Buying layering pieces is a great way to ensure that your wardrobe is seasonal as well as timeless. For instance, a light jacket can easily be used throughout the summer as well as the winter. You can wear it in the summer to be warm on those cooler summer nights. Furthermore, you can wear it in the winter under another jacket to enhance your warmth.
Layering places are always a classic way to ensure that you are warm or cool, as well as feeling comfortable throughout the year.
Buy colors that make you feel confident and comfortable
It is important that you buy clothes in colors, patterns, and textures that make you feel the most confident and comfortable. For instance, if you buy a bright top and you never wear brightly colored garments, then this can be a sign that this is not a piece to add to your timeless wardrobe.
Instead, buy the top in a color that you would typically wear so that you know that you always make use of it and feel confident in it.
Invest in good shoes
Not only will great shoes make you feel comfortable, but they can also pull an outfit together and make you look classic and well-presented. Even if you wear a casual outfit, some smart shoes can instantly make it look more professional.
Investing in good shoes is money well spent as they will last years and ensure to match well with many of your outfit choices.
Choose items that flatter your body type
Although your friend might look great in oversized jumpers, they might not flatter your body type. Instead, you might look best in fitted jackets or cardigans. It is a good idea to shop and choose items that flatter your body type as when you get dressed you will feel your most comfortable and confident self.
Of course, you can buy various shapes and sizes of clothing so that you have various pieces to choose from in your wardrobe. However, ensure that whenever you buy something new, it flatters your body type so that you know whenever you put it on you will feel great.
Avoid shopping too often
Although you might love shopping, it is best to avoid shopping too often as you might start to buy pieces that will never see daylight or items that will only get one or two uses.
The point of a timeless wardrobe is that you will wear their pieces on repeat and always feel great in them. If you start adding new things to your wardrobe that you'll only wear from time to time, the one you will hinder the usability of your other pieces and also hinder your efficacy or a timeless wardrobe.
Choose the best colors for you
Similar to the shapes and sizes of various garments, it is also a good idea to choose colors that suit you. Or colors that make you feel amazing.
Depending on your skin tone and your hair color, various shades, and colors will suit you more than others. For instance, if you have a warm skin tone then wearing cool-colored garments might not suit you as much as wearing cool-colored garments. Therefore, when you shop, ensure that you know what tones and colors suit you so that you can buy pieces that will guarantee to make you look and feel your best whenever you get dressed.
Invest in two pieces
Investing in two pieces is ideal for men and women to always feel put together and timeless when they get dressed.
For instance, buying a suit or a two-piece short and shirt set will guarantee that when you get dressed you will feel put together and effortless. Two pieces are an easy way to get dressed and look and feel that you have made a lot of effort.
Buy various colors of the type of dress that you like
If there is a dress shirt, pair of trousers or jumper that you really love, then it can be a great idea to buy the same thing in various colors. It makes sense to do so as you know that whenever you put on that garment, it will flatter your body type and make you feel great.
Building a timeless wardrobe does not mean that you need one piece of everything. You can have as many pieces of garment and accessories as you like. However, ensuring that they flatter you and make you feel great will guarantee that you have built a timeless wardrobe.
Invest in your comfortable clothes too
Although you might think that you need to invest most of your money, time, and effort into clothes, you were out of the house to work and to events. It is also beneficial to invest time and money into your comfortable clothes too.
You likely spend your weekends in comfortable clothes and get dressed in them as soon as you finish work or a long day. You will want to feel as comfortable relaxed and stylish as possible whenever you are wearing your comfortable clothes. Therefore, it makes sense to invest in them.
A timeless wardrobe is not all about professional and stylish pieces. It includes those clothes that you were to lounge around the house in and wear out on rainy days too. Therefore, ensure that your wardrobe has a good balance of comfortable and professional clothing that you have invested your time and money into so that whenever you get dressed you feel great uncomfortable.
Take your time finding and investing in a great pair of jeans
Everyone can benefit from having a great pair of jeans in their timeless wardrobe. You can dress them up and wear them to special occasions and events while remaining comfortable. Or you can dress them down with a casual jumper or T-shirt, yet look very stylish.
Taking your time to find the perfect pair of jeans is a wise idea as various people suit different colors and various people have different denim preferences. When you have found the best pair of jeans for you, then do not hesitate to invest in them. It is always great when you know you have a great pair of jeans that fit you and make you feel amazing whenever you wear them.
Using this guide and utilizing as many of these tips as possible guarantees that you can successfully build a timeless wardrobe. Investing in timeless pieces will ensure that whenever you get dressed, you will feel comfortable and your best self. It makes sense to own fewer clothes that you feel amazing in instead of hundreds of garments that never make you feel great.