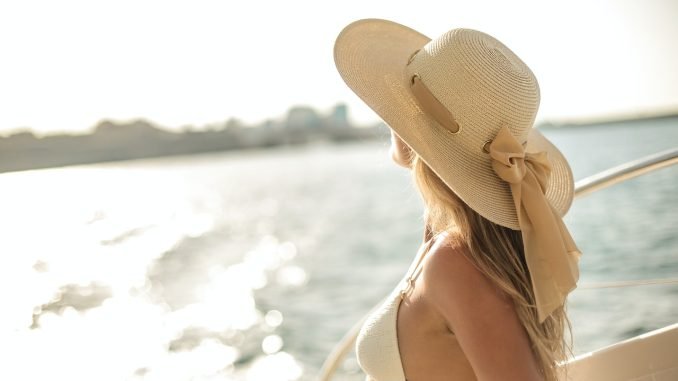 Photo by Andrea Piacquadio:  
Ahoy, party enthusiasts! If you're lucky enough to be invited to a boat cruise party, you're in for a fantastic time on the high seas. But before you embark on this exciting adventure, there's one important question to tackle: What to wear? Boat cruise parties combine the thrill of being on the water with the excitement of a festive celebration, and your outfit should reflect this unique blend of elegance and nautical flair. In this comprehensive fashion guide, we'll navigate through various types of boat cruise parties and suggest appropriate attire to help you make a stylish splash.
Elegant Evening Cruise:
For a sophisticated evening cruise beneath the stars, channel your inner elegance with a touch of glamour. Ladies, opt for a flowing maxi dress in rich jewel tones or classic black. Add a statement necklace and some elegant heels to complete the look. Gents, a well-fitted suit or a dressy blazer paired with dress trousers will exude confidence. Don't forget to accessorize with a stylish watch and polished shoes.
Tropical Paradise Cruise:
If you're headed for a tropical-themed cruise, think vibrant colors and relaxed vibes. Ladies, choose a playful sundress in a tropical print, paired with comfortable sandals or espadrilles. A wide-brimmed hat and statement sunglasses will protect you from the sun while adding a touch of glam. Gents, go for light linen trousers or shorts paired with a colorful, breezy button-up shirt. Don't shy away from a stylish Panama hat to complete the tropical look.
Nautical Chic Cruise:
When it comes to boat cruise parties, embracing nautical elements is always a hit. Ladies, a navy-and-white striped dress captures the maritime spirit perfectly. Pair it with classic boat shoes or espadrilles and accessorize with anchor-themed jewelry. Gents, opt for white or navy chinos, a crisp white shirt, and a lightweight navy blazer. A pair of boat shoes or loafers will tie the nautical theme together.
Vintage Cruise Affair:
For a cruise party with a vintage twist, it's time to channel retro charm. Ladies, think '50s-style halter dresses with polka dots or pastel shades. Complete the look with cat-eye sunglasses and a headscarf. Gents, embrace the dapper style with high-waisted trousers, suspenders, and a well-fitted dress shirt. A vintage-inspired fedora or newsboy cap will add the finishing touch.
Sunset Cocktail Cruise:
A sunset cocktail cruise calls for a mix of casual and classy. Ladies, consider a tailored jumpsuit in a chic, solid color. Pair it with wedges or strappy sandals and keep your accessories minimal yet stylish. Gents, opt for tailored trousers, a patterned shirt, and loafers. A lightweight blazer thrown over your shoulders will elevate the ensemble while keeping it relaxed.
Costume or Themed Cruise:
If the boat cruise party has a specific theme or costume requirement, fully embrace it! Whether it's a masquerade, a retro disco, or a Hollywood glamour theme, go all out with your attire. Don't be afraid to experiment and get creative, as these parties are all about having fun and making a statement.
Conclusion:
As you prepare to set sail on a boat cruise party, remember that your outfit is an opportunity to express your personal style while embracing the unique atmosphere of the event. Whether you're leaning toward elegance, embracing nautical vibes, or going all in with a theme, the key is to feel confident and comfortable in what you wear. So, pick your outfit wisely, step on board with a smile, and get ready to dance the night away on the shimmering waters.
Fair winds and fabulous fashion!
Regenerate