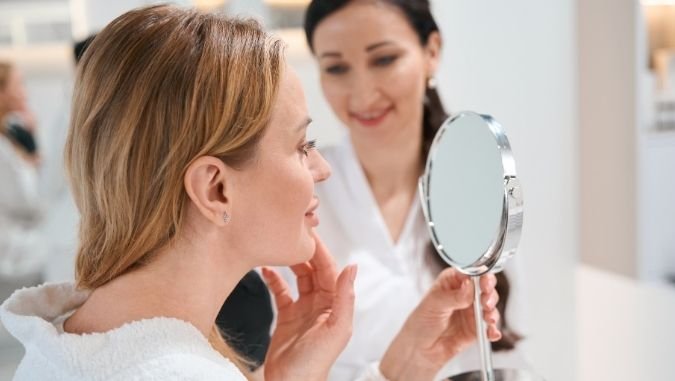 Credits: Logical Position
Ensure the best Botox experience with our guide on pre- and posttreatment steps. From understanding needs to asking the right questions, we've got you covered!
Botox treatments have gained immense popularity due to their ability to reduce fine lines and wrinkles, providing a more youthful appearance. However, to ensure the most satisfactory and safest results, you should follow certain steps before and after the procedure. Read on to learn what to do before and after Botox treatments.
Understand Your Needs
Botox isn't a one-size-fits-all treatment, so you should understand your specific requirements and expectations. Some people might need subtle changes, while others seek more pronounced results. Before heading to the clinic, reflect on the areas you wish to treat and your desired outcome. This clarity will help the injector tailor the treatment to your needs. You should also come prepared to your consultation appointment with questions to ask your Botox injector to ensure your complete comfort and education about the treatment.
Avoid Blood Thinners
Certain medications and supplements, like aspirin and vitamin E, can thin your blood. This might lead to increased posttreatment bruising. Therefore, try to stop consuming anything that can thin your blood at least a week before your appointment. However, consult with a medical professional before making changes to your medication regimen.
Take It Easy After the Procedure
Once you've had your Botox treatment, be sure to ask your provider about any specific aftercare instructions and when to schedule a follow-up. For one, you should resist the urge to touch the treated areas. Doing so can cause the Botox to spread to unintended muscles. Additionally, avoid lying down or partaking in strenuous activities for at least four hours after the procedure. This ensures the Botox remains in the desired location, leading to optimal results.
Monitor Results and Side Effects
Results usually appear within three to seven days after treatment. Monitor changes and note any unwanted side effects. Common side effects include redness, swelling, and minor bruising. However, if you experience severe or prolonged symptoms, immediately contact your injector or medical professional.
Now that you know what to do before and after Botox treatments, you can make informed decisions. Ensuring you're prepared and knowledgeable will lead to a more positive experience, allowing you to enjoy the rejuvenating effects of Botox confidently.