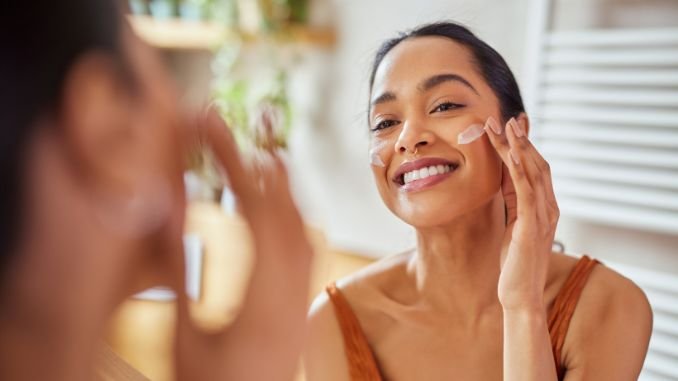 Image By: Rido License: 619348721
With so many moisturizers out there, knowing which kind is right for you is important. Here are the best kinds of moisturizers for different skin types.
Nourishing your skin with the right moisturizer is a key step in any skincare regime. But the abundance of options can leave one feeling overwhelmed, especially when each product claims to be the best. Understanding that every skin type requires a unique approach is crucial—what works for oily skin may not yield the same results for dry or combination skin. We'll discuss the best kinds of moisturizers for different skin types to help you find the best option for your skin.
Dry Skin
If you deal with dry skin, the key is replenishing your skin's moisture levels and preventing further moisture loss. Thicker creams, such as emollients, are an excellent choice for dry skin. Emollients work by filling in the gaps between skin cells with fats, creating a smooth, soft surface. They provide an intense dose of hydration and create an occlusive layer on the skin's surface, preventing the evaporation of water from the skin. This dual function helps combat dryness and flakiness, leaving skin soft, supple, and well-hydrated.
Combination Skin
If you have combination skin, finding a moisturizer that can cater to both the dry and oily zones of your face is essential. A cream moisturizer can be a great option if your combination skin tends to get dry. Cream moisturizers are typically heavier than lotions and are excellent at sealing in moisture.
On the other hand, if your combination skin tends toward the oily side, choose a gel- or water-based moisturizer. These moisturizers are lightweight, absorb quickly, and don't leave a greasy residue, making them perfect for combatting excess oil.
Oily Skin
If you have oily skin, buying a moisturizer can seem counterintuitive. However, even oily skin requires hydration. Gel- or water-based moisturizers are best for this skin type. These moisturizers are noncomedogenic, which means they won't clog your pores, a common concern for oily skin types. Their lightweight and fast-absorbing nature ensures they don't contribute to the excess oil on your skin's surface; instead, they provide adequate hydration without a greasy feel. Furthermore, these moisturizers often contain ingredients, like hyaluronic acid and glycerin, that draw water into the skin, promoting a supple and healthy skin appearance.
Sensitive Skin
Finding a suitable moisturizer can feel daunting if your skin is sensitive. The best moisturizers for sensitive skin are the ones that are free from fragrances, parabens, and other potential irritants. These ingredients can trigger inflammation, redness, and irritation in susceptible individuals, leading to discomfort and skin damage. One of the simple tips for caring for sensitive skin is to opt for moisturizers labeled "hypoallergenic,"  "fragrance-free," or "suitable for sensitive skin." These moisturizers contain minimal ingredients and minimize the potential for allergic reactions or skin irritation. They focus on hydrating the skin and maintaining its natural barrier without causing unnecessary irritation.
Now that you know the best types of moisturizers for various skin types, you can select the ideal option for your skin. Well-hydrated skin is the foundation of a healthy, glowing complexion. With so many products available, spend time choosing a moisturizer tailored to your skin type and concerns.